The great thing about being an early-stage startup like Bereev is that our product is constantly evolving and being improved, which means our users (YOU) can play a big role in helping us decide which features should we be building next or which part of the app should we change to make death preparation a lot easier and accessible.
At the moment we have a laundry list of features that we would like to develop and because we're a small team, prioritising which to work on first can sometimes be a huge challenge. This is where you guys come in, we want you to vote for your favourite features and we'll prioritise whichever features that get the most votes. All you have to do is cast your votes!
Pick up to 3 of your favourite features and mention them in the comments section below or let us know if you have other ideas. After all, every single improvement we make on Bereev is aimed at helping YOU.
---
Departure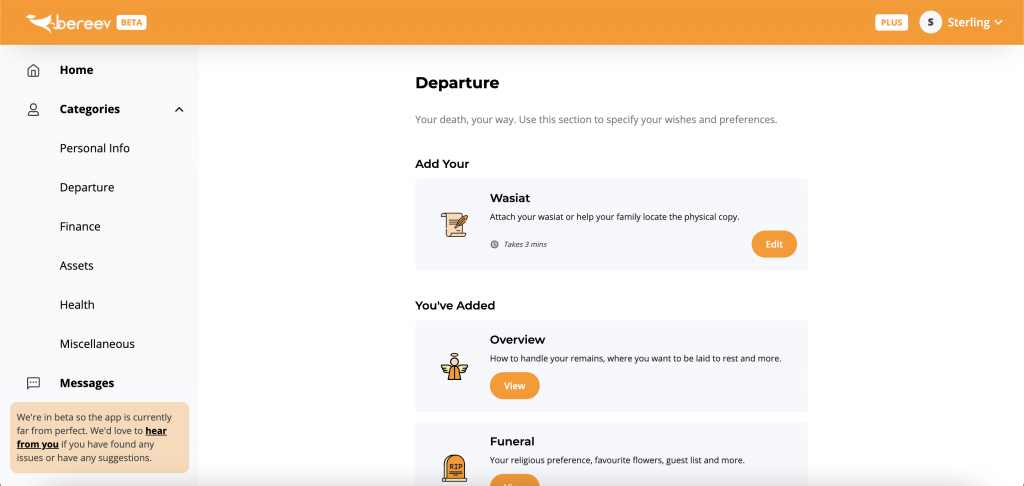 📞 Important Contacts
A place to add all of the important contact information that your loved ones should know including how to get in touch with your lawyer, insurance agent, employer, landlord, banker and more.

👴🏼 Eldercare
Plan out how you would like your golden years to be handled if you're no longer capable of taking care of yourself. This will help your family make better decisions when it comes to organising help for you.

🎵 Music List @ Funeral
Include a music playlist (could be a Spotify or Youtube playlist) to be played at your funeral or memorial.
Finance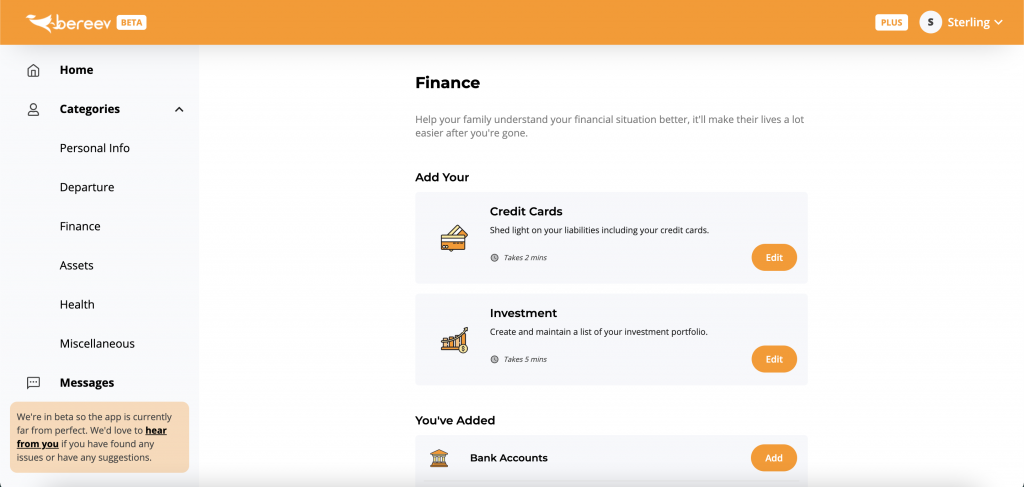 📈 Investments
Break down your entire investment portfolio, attach supporting documents, including instructions on how to deal with those investments, specify your investment manager's contact and more.
Assets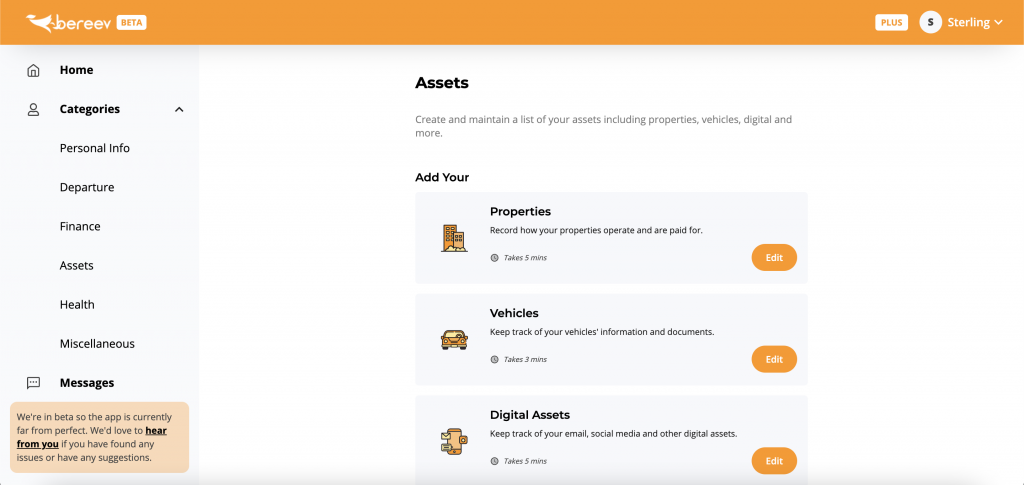 💻 Digital Assets
List down all of your digital assets and include instructions on what to do with them when you're gone. Includes email, social media accounts, paid subscriptions like Netflix/Spotify and more.

💼 Business Ownership
Compile a list of the businesses that you have a stake in, include important documents like your share ownership, specify the next steps for your loved ones to follow and more.

⌚ Keepsakes
Make a list of all your possessions that are not covered in your will and what to do with them, such as your electronic devices, books, collections and whatnot.
Messages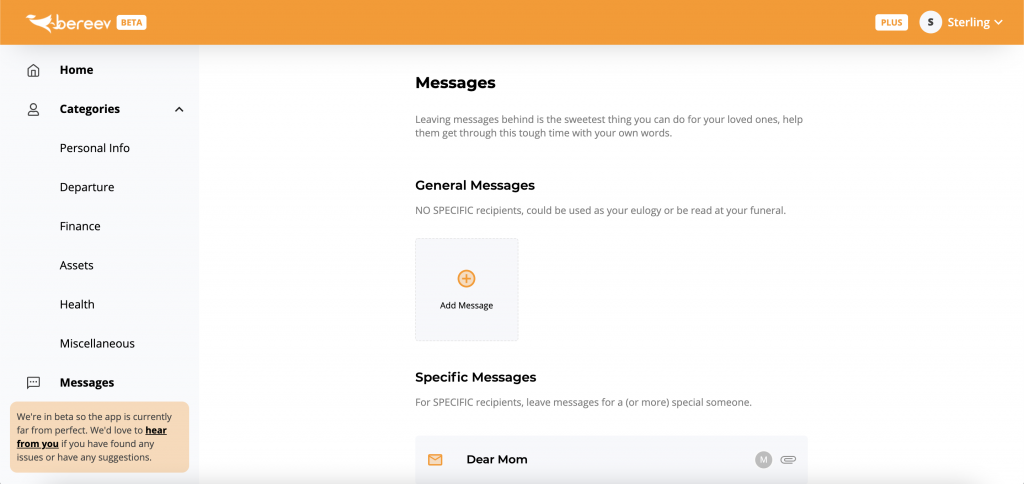 📅 Send on a Specific Date
Currently, your messages will be sent at one go once your sidekicks report your death and we verify it. Our plan is to make it an option for you to pick a specific date to send your messages so it'll make sending a love letter on your anniversary, wish on a birthday and more possible even when you're no longer around.
Others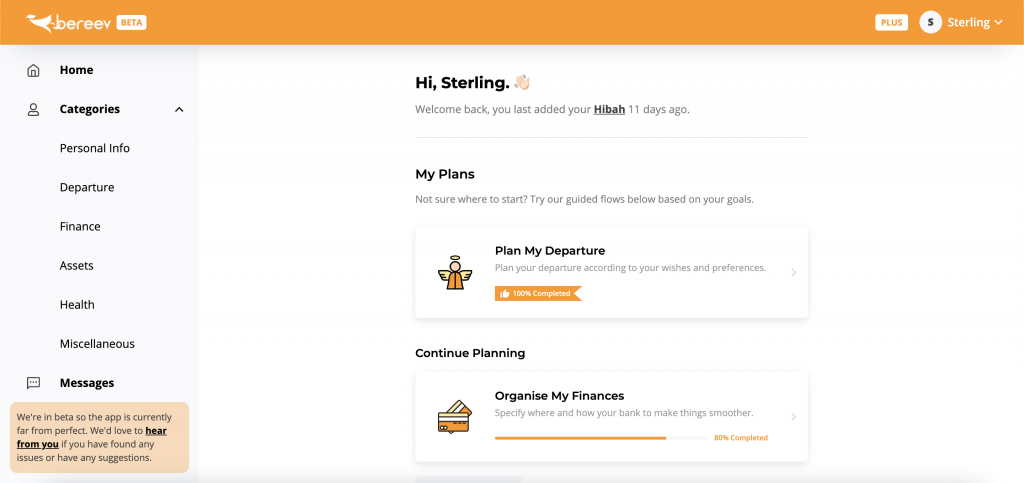 📱Pin Code Login
Android users will be able to set a 4 digit pin which can be used for easier logins.

💬 Push Notifications
Get periodic updates from us through your device/browser notifications.
---
Bereev is a Death Preparation App that helps you prepare yourself and loved ones for your own death. Sign up for your FREE account here.
📝 Plan
Leave instructions for your funeral, financial and personal arrangements.
📂 Vault
Store vital documents like your will, insurance, medical records and more.
💌 Message
Leave messages for your loved ones which will be sent after you're gone.
👥 Share
Invite the people you trust to view your plan and customise their access.
#death #deathplanning #deathapp #endoflife