If you've been on the Bereev Lite account and want to prepare a more complete death plan, you should consider upgrading your account to Plus. After all, with Plus you'll be able to unlock every feature on the app, remove any limitations (leave unlimited messages and invite as many sidekicks as you like) and unlock a much bigger storage space, 5GB to be exact.
We've broken down all the reasons why you should upgrade to Plus and how it'll completely change your death preparation experience in this post. Also, we're currently running a limited-time promotion where you'll only have to pay RM699 once and the account will be valid for your entire life! That's over 85% in savings, so why not snap it up now?
---
1 – Look for the Upgrade Plan Button
It should be on the top right corner of the screen, beside your name.
2 – Upgrade Your Plan
Read through all the benefits of upgrading to Plus and click on the orange button.
3 – Apply Promo Code (Optional)
If you have any promo codes, now is the time to apply them. The cart will reflect the discount once the promo code is applied.
4 – Pick Payment Method
Choose PayPal if you're planning to pay by credit or debit card. If you prefer online banking (only available for Malaysian banks for now), pick Billplz.
5 – Complete Payment
You'll be redirected to the chosen payment gateway where you should proceed with the payment as usual.
6 – Invoice via Email
Once your payment has been completed, you should receive your invoice in your inbox.
7 – Login as Usual
Login to Bereev as usual, your account will be automatically upgraded to Plus if your payment has been completed.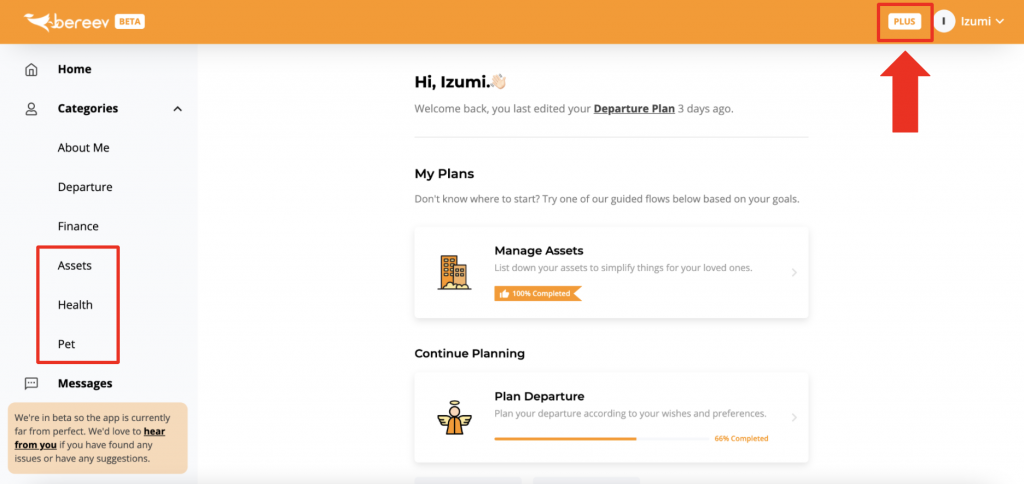 ---
Check out this video where our founder Izumi shows you how to upgrade your Lite account to Plus. If you have more questions, please reach out to us.
---
Bereev is a Death Preparation App that helps you prepare yourself and your loved ones for your own death. Sign up for your FREE account here.
📝 Plan
Leave instructions for your funeral, financial and personal arrangements.
📂 Vault
Store vital documents like your will, insurance, medical records and more.
💌 Message
Leave messages for your loved ones which will be sent after you're gone.
👥 Share
Invite the people you trust to view your plan and customise their access.
#death #deathplanning #deathapp #endoflife