If you're considering signing up for a Bereev account, you might be wondering what's the difference between the Lite and Plus versions? Let's break it down. Read to the end for a sweet deal on Plus, exclusive for our readers.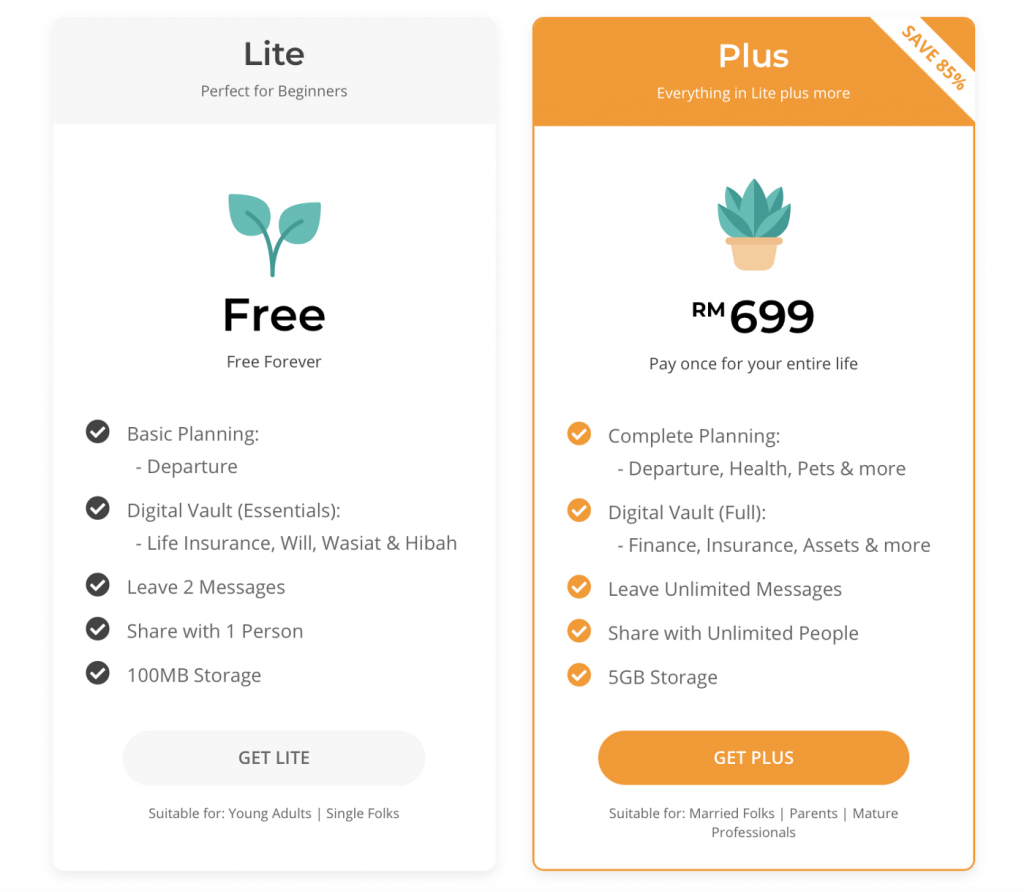 ---
Lite (Free Forever)
Lite is the free version of Bereev and it's perfect for beginners. When we say free, we mean absolutely free forever! It includes basic features that will help you create a simple death plan, but it does come with certain limitations because it's free.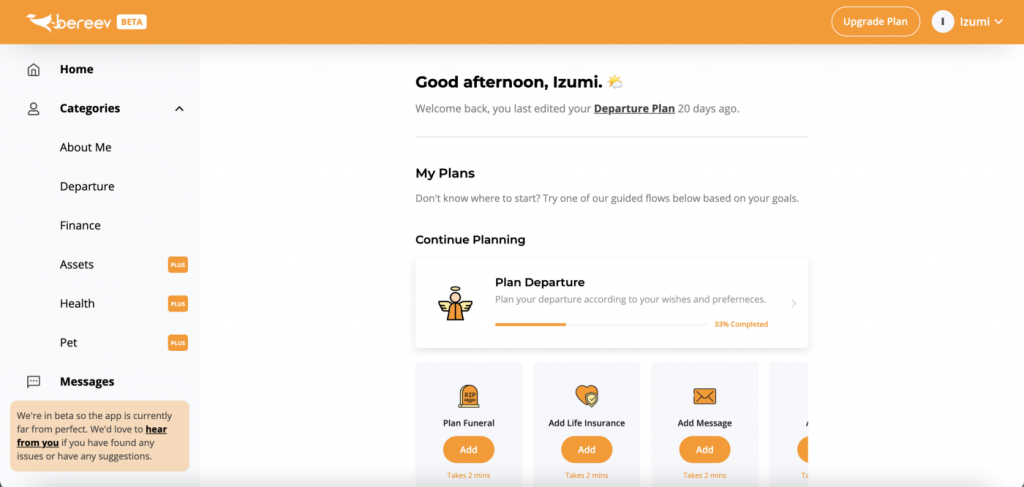 What can you do on Lite?
Plan your funeral
Organise your will, wasiat and hibah
Organise your life insurance policies
Leave up to 2 messages
Invite only 1 sidekick to view your plan
Get 100MB worth of storage
Who should sign up for Lite?
Young adults
Single folks
Anyone who's looking to explore
---
Plus (RM699 for Lifetime)
Although Lite might be sufficient for some, some are looking to leave behind a more complete plan. If that's the case, the Plus version will be perfect for you. When you sign up for or upgrade to Plus, you'll unlock all of the features, remove every limitation and gain access to bigger storage space. And you only have to pay RM699 once for your entire lifetime!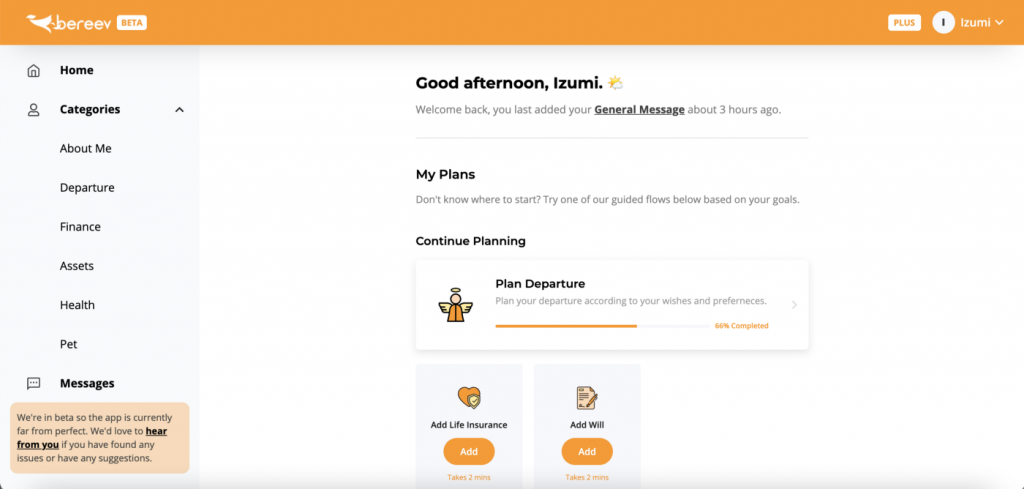 What can you do on Plus?
Everything on Lite plus more.
Organise your finances (assets and liabilities/debts)
Manage your assets (property, vehicles and digital assets)
Organise all types of insurance policies (health, PA and more)
Record all of your medical procedures
Leave behind medical records
Leave instructions for your pet's care
Leave as many messages as you want
Invite an unlimited amount of sidekicks to view your plan
Access up-to 5GB of storage
Who should sign up for Plus?
Married folks
Parents
Professionals
Anyone who has more responsibilities
---
Why should you upgrade to Plus?
You need a subscription to Plus to access all features and unlock a bigger storage space.

🔓 Unlock Everything
Including Finance, Assets Management, Health, Pet and more.

✅ Remove Limits
Leave as many messages and invite however many sidekicks as you wish.

🗄 Bigger Storage
Access a total of 5GB of storage space, that's plenty of documents and media!

💵 Pay Only Once
You'll only have to pay once and your account will be valid for your entire life.

😯 Huge Savings
Save over 85% by paying RM699 only once for your entire life.
---
Check out this video where our founder Izumi shows you how to upgrade your Lite account to Plus.
And here's the treat we promised you, sign up for or upgrade to Plus using the promo code medium to save RM100. You'll only have to pay RM599 instead of the usual RM699, promo valid until 31st December 2021.
If you have more questions, please reach out to us.
---
Bereev is a Death Preparation App that helps you prepare yourself and loved ones for your own death. Sign up for your FREE account here.
📝 Plan
Leave instructions for your funeral, financial and personal arrangements.
📂 Vault
Store vital documents like your will, insurance, medical records and more.
💌 Message
Leave messages for your loved ones which will be sent after you're gone.
👥 Share
Invite the people you trust to view your plan and customise their access.
#death #deathplanning #deathapp #endoflife