These days there is an app for every single thing. Going to college? There's an app that helps you pick the right course. Getting married? There's a wedding planning app. Expecting your first child? There's a pregnancy tracking app. But what about death? Is there an app for that?
Yes! Bereev is one of the few apps out there that help you prepare for death. There are a few more useful apps for those of us who are trying to deal with death more efficiently but that's another story for another day. For now, let's dive deeper into Bereev.
---
Bereev is a Death Preparation App, we help our users create a plan which will guide their loved ones after they're gone. The coolest part about Bereev is the fact that we combine all the different elements of death planning such as the funeral, legal, financial and personal aspects onto 1 secure platform. And most importantly, we make it so easy to share your plan with the people you trust.
Because a super detailed plan is completely useless, unless it's communicated to the right people.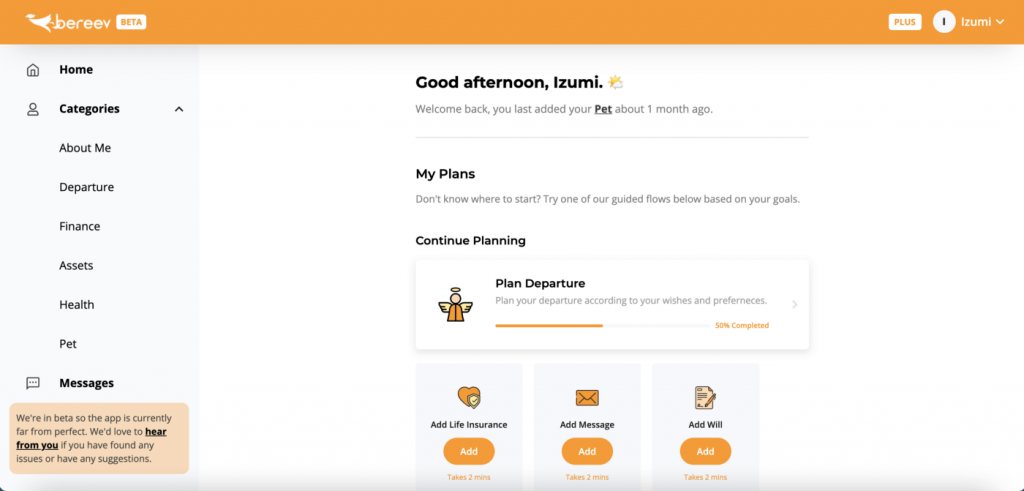 Here's what you can do on Bereev.

📝 Leave Instructions
Answer simple questions at your own pace to leave behind clear instructions on your wishes and preferences. Including whether you prefer to be buried or cremated? What type of funeral do you want? Who should your family inform? What's going to happen to your Netflix subscription? Who's going to care for your pets? And so much more.

🗄 Digital Vault
Store all of your important documents in a secured digital vault so that your family can access them easily when you're gone. This includes your will, wasiat, hibah, insurance policies, medical records, financial statements, property ownership, tenancy agreements, investment records and a lot more.

💌 Leave Messages
The sweetest thing that you can do for your loved ones is to comfort them and help them navigate this difficult phase in your very own words. Write letters or record video/audio messages for your parents, spouse, children, siblings and friends, upload those on Bereev and tell us who is it for. We'll make sure it gets to the right people when you're no longer around.

👥 Share Your Plan
Invite the people you trust to view your plan whenever you're ready, these people are known as Sidekicks (since they're the Robin to your Batman) on Bereev. You can invite multiple people and choose which part of your plan you would like to share with each of them. You also get to choose if you want them to be able to view your plan NOW or AFTER YOUR DEATH.
Pretty cool right? There are a lot of things about death that we have no control over, we can't dictate how or when we die. BUT! We can definitely be smart about it and make sure both us and our loved ones will never be caught off guard. After all, we plan for almost every single important milestone in our lives so why not death too?
---
Bereev is a Death Preparation App that helps you prepare yourself and loved ones for your own death. Sign up for your FREE account here.
📝 Plan
Leave instructions for your funeral, financial and personal arrangements.
📂 Vault
Store vital documents like your will, insurance, medical records and more.
💌 Message
Leave messages for your loved ones which will be sent after you're gone.
👥 Share
Invite the people you trust to view your plan and customise their access.

#death #deathplanning #deathapp #endoflife