Originally published by Kasia Borowczak @ Project Conversation and corrected by Jen Fearnley.
Kasia
Tell me what is Pomnie (Eng. "After Me") and what is the story behind its creation?
Przemek
Pomnie is an app that allows you to store data and information about what is important to you in your absence. The point is that your relatives can easily and in one place find all the information that may be useful to them one day. This could be information related to your insurance, health, finances, or even bee hives, if you have such, and it is not possible for you to take care of them in your absence.
We're talking about absences in different dimensions here. First of all, about absence, that is the easiest for us to bear, when someone travels somewhere. We are also talking about absence in the case of illness or unfortunately permanent absence when someone dies. So we can treat Pomnie as a space to write down all the important things for a human being and as a place that can help those who stay. Sometimes we ask ourselves whether this platform is more for the one who saves and organizes things there or more for those who are entrusted with this information. I suspect more for the latter.
And how did we come up with it? I do not hide that the first idea was to protect myself if an unexpected event during a long trip occurred. What if something happened to me, if I was taken to the hospital or if I unfortunately did not come back? Would my family know what to do then? Szymon and I started to think about the solution to our dilemma. After a few months it turned out that in Malaysia our friend, with whom we worked in the previous company, lost both parents in a very short period of time and she came up with the idea to create something very similar. That is why we contacted her and decided that we would work together on this kind of solution to help people in Poland, Europe and around the world.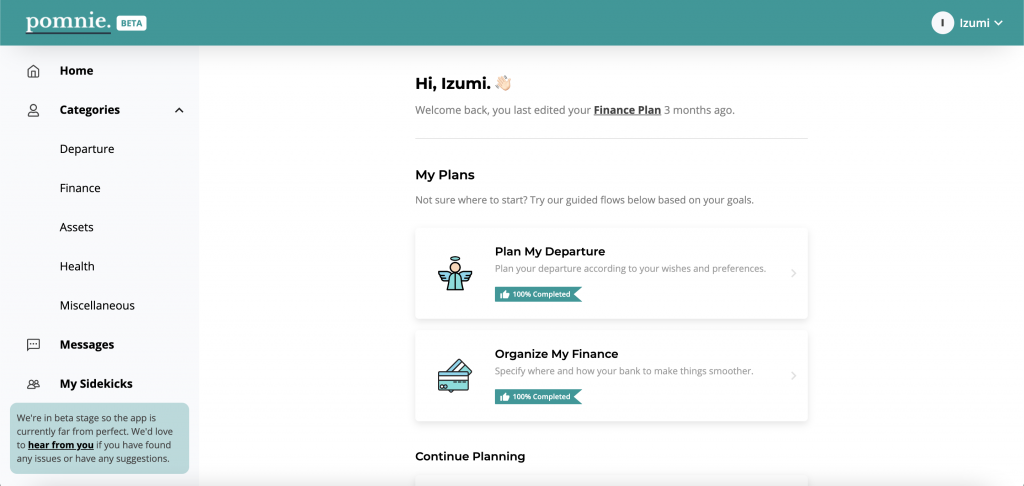 Kasia
And how come you two decided to work together on this project?
Szymon
We've known each other since 2013, because we worked together in one organization. Przemek was actually my boss who looked after me at the beginning of my career. From that moment on, our cooperation has been developing on various levels, because apart from this project we also work together on other ideas. There is a thread of understanding between us and an ease in asking ourselves difficult questions.
Przemek
Yes, in my opinion we just are on the same wavelength. We are open-minded people and we value our opinions and this is, according to me, the key to success in order to create and maintain such a long-term relationship.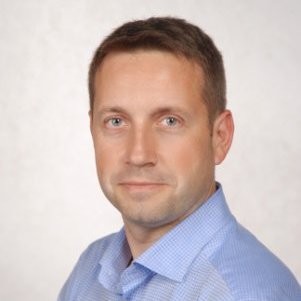 Kasia
It is very important when it comes to such a delicate topic like your project which encourages us to think and talk about something we do not want to talk about too much.
Przemek
Yes, because talking about someone's absence is accompanied by pain. I assume that not only in Poland but all over the world, people are afraid to talk about death, despite the fact that it has been with us since birth. In this case, we don't really say if we die but when we die. We know that the time will come for everyone, but very few people want to remember it and even less want to talk about it. Therefore, we are trying to break this taboo and tell others that yes, it can happen and therefore it is better to be prepared to make it easier for others.
Kasia
The pandemic has shown us all that death and disease happen faster and more often than we expect. From my observations it seems to me that we experience a lot of awkwardness and inhibitions when it comes to having conversations about what could happen or what should be done in our absence. For this reason, we very often choose not to bring this topic up at all, and everything left behind us after our death for example is arranged by our loved ones in a very chaotic manner, without any given direction. Am I right in thinking that the Pomnie platform creates a gentle and helpful bridge between such a conversation and our awkwardness, and perhaps our fear of dying and losing those we love?
Przemek
Exactly. It's hard to disagree here, because despite the fact that we have been working on the subject of death through this project for some time already, I still have a problem having such a conversation with some people. It's much easier to write down all the information in one place, including insurance or bank accounts, and say to your brother, for example: Listen, you are my sidekick. If something happened to me, you will receive all my data and you can pass it on to chosen people.
Kasia
And has your initiative resulted in any conversations with your families or friends on how to organize things in case of your illness or death?
Przemek
Many friends whom we proposed to set up an account began to think deeper about this topic. Thanks to this initiative, one of them has already chosen a dress and the music for her funeral. I also became the sidekick of one person's data and a potential guardian of the dog.
Szymon
Indeed, our idea, from a purely emotional but also administrative perspective, initiated all kinds of conversations. Managing the affairs of a deceased person is a complex process and involves very difficult reflections. It seems to me that we have managed to provide space for these difficult topics but we don't expect people we talk to, to set up an account or talk to loved ones about it immediately. Everyone is different and everyone in a different scope needs to think about what is important to them and how they should approach it.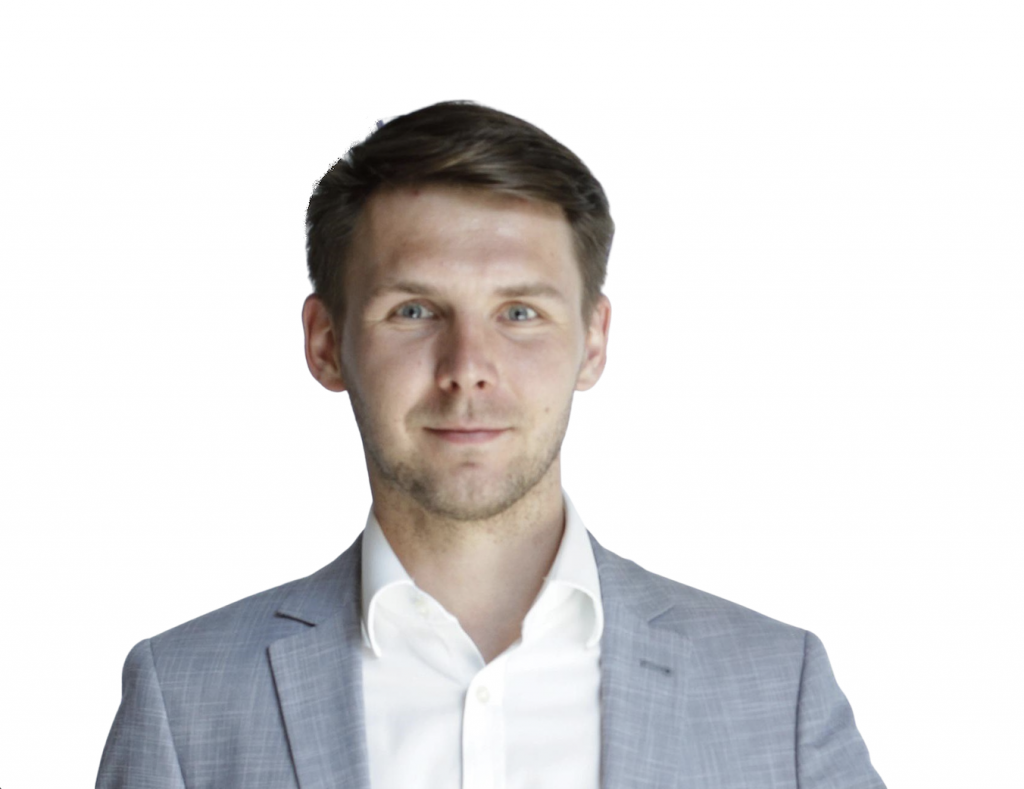 Kasia
And what are the negative consequences, especially for the family who will manage the wealth and administrative and legal matters, of not leaving instructions on matters that should be dealt with after the death of the deceased?
Szymon
We face several different aspects here. The first problem is where to start, where to go and what to do exactly. There are situations when relatives do not realize that their loved one has had an insurance policy or a bank account, and finding this information is very stressful. It also takes time and commitment, and when faced with a loss, no one really wants to deal with such things because they are not very pleasant. Unfortunately, we do not know the official data on how many unclaimed policies exist, but there is real money behind it and a huge loss, because if the deceased person had some policy, which they paid monthly in the event of illness or death, they did it to take care of their loved ones.
Przemek
I have the impression that it is quite easy to find out what bank accounts a deceased person had but it is much more difficult with the entire insurance and investment system, for example in the form of cryptocurrencies, which are not regulated by the legal system. There are many things that become lost with a person, and the family will not go to all insurance companies or financial institutions to find out if the deceased family member had an account there. In addition to financial matters,there are also matters related to the funeral, animal care, or even knowledge about genetic or oncological diseases that the deceased suffered from. Therefore, leaving such a manual hopefully will bring relief in terms of the ease of acquiring this important knowledge.
In addition to all purely material matters, it is also important to protect our digital legacy. It is worth knowing where someone had an online account and how to cancel or delete it. It is certainly not pleasant to receive every year a birthday message or email addressed to a person who has passed.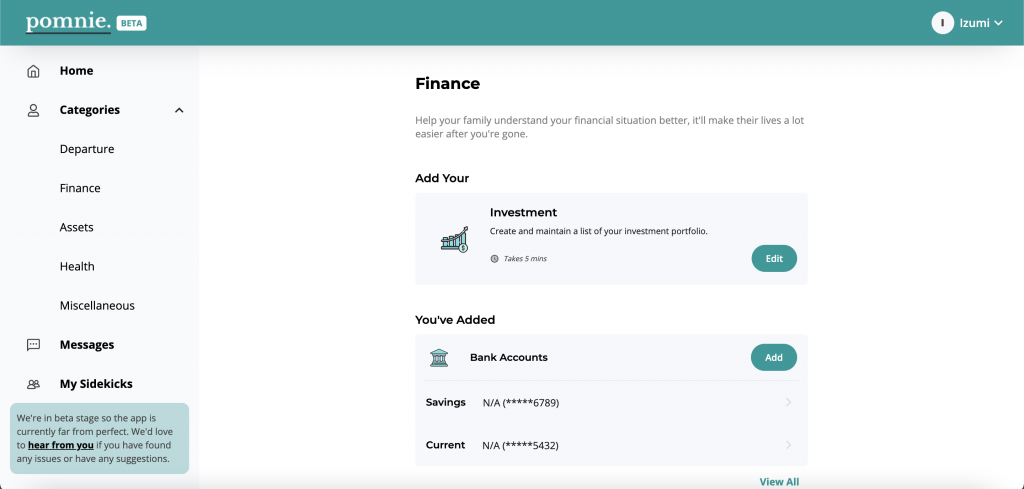 Kasia
I must admit that I see two things in your idea. Our responsibility for things and organizational and legal matters that we leave behind in the event of death, illness or long travel, and love for our loved ones who will have to deal with these matters one day. Your platform has a function to leave a private message for someone who will gain access to it one day and you are working on making it possible to record personalized videos in the future. How can receiving a personalised message or a video can help in the process of grieving?
Przemek
Everyone goes through grief on their own, even though there is a lot of support from the family, so we hope that receiving such a soothing message from the person who passed away can help. It could be a message saying that someone felt loved and is grateful for spending their life with their family. I think it can ease the grief and help in the process of accepting this loss. There is also an option on the platform to leave a general message that the sidekick, the person chosen by the person who has passed away, can read at the funeral. There are many stories in which the dying person prepares messages for their relatives in the form of letters or video materials. A touching example is the story of a father knowing he was going to die. He made a series of videos for his little son, including tips on how to shave. I think that leaving such a form of communication allows for a kind of contact with the person who has passed away.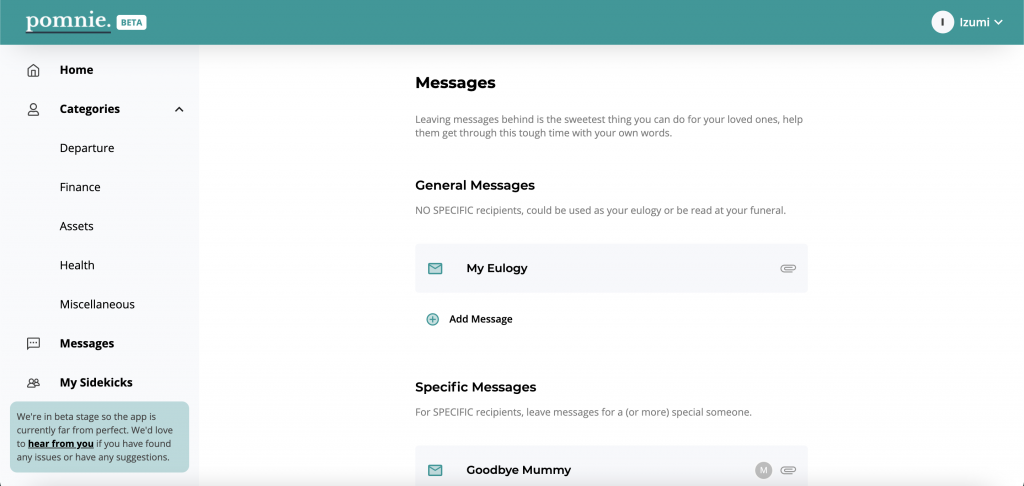 Kasia
Tell me how it all looks from the practical side. When do relatives get a message that they have access to the platform and how does the sidekick role work?
Przemek
A sidekick is a person who has the right to report to us that something has happened to a person who has an account on our platform. Of course, it may be that someone decides that the information about the animals and their vet sidekick or others know immediately. However, in terms of other serious matters such as finance, insurance or funeral arrangements, they can be made available after the user's death or even never. A sidekick is involved in the forwarding of information. In addition, to exclude a mistake, we ask them to provide us with a death certificate and when the document is verified, the data selected by the user is immediately received by the sidekick, and private messages written by the user are sent to the indicated people.
Szymon
I would like to add that when I am a user and I choose a sidekick, they receive an electronic notification that they have been invited to perform this role. The sidekick has the option to accept this invitation and they decide whether they are ready and feel capable to take this responsibility.
Kasia
And what about the platform's security and their users' data?
Szymon
Safety is obviously one of the key issues. The data is stored in the European Union in Dublin and Amsterdam. We use Amazon Web Services, the world's largest data management provider. We also provide the 2FA function standing for 2 factor authentication. When you try to log in to the website, a temporary code is sent to your e-mail address, which is valid for 30 minutes and you can only log in using this code. This undoubtedly increases the sphere of security when logging in. It is also worth mentioning here that we, as administrators of the platform, do not have access to our users' data and we are not interested in this data at all.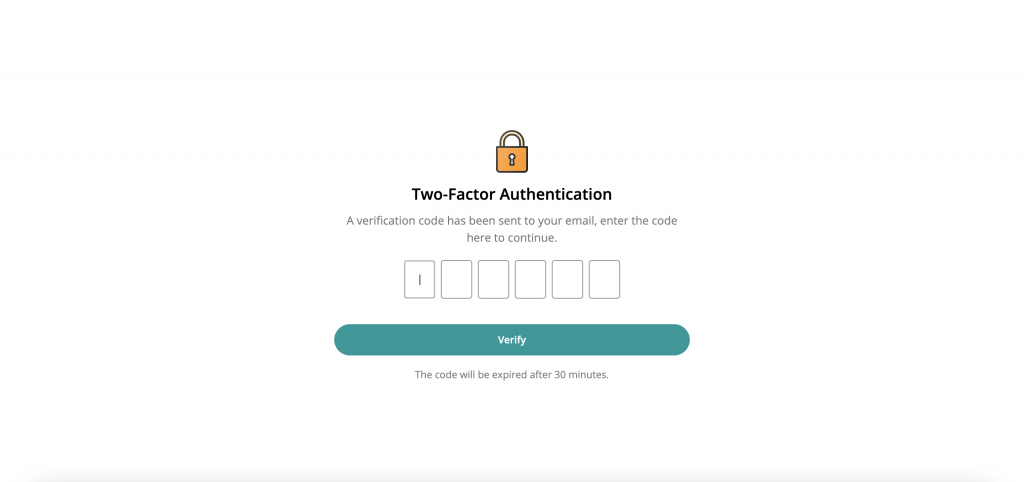 Przemek
All data is encrypted, so there is no option for us to read it without the participation of the owner. In addition, we also emphasize that there is no need to leave detailed information on the platform, because the family does not need it. The family does not have to know how much someone had on their bank account, it is only important to know which bank to go to or what insurance was active at the time of death. Even when it comes to the will, there is no need to enclose it because it is enough to write down that the will is in a red envelope, in the top drawer of the dresser in the living room. We offer double security – both technological and functional.
Kasia
The question which is often asked is how to prepare emotionally for the death of a loved one. It seems to me that the organization of these administrative and legal things is the first step to make this emotional process a little easier.
Przemek
Yes, so we hope that we help at least in this aspect so that people in these undoubtedly stressful and crisis situations think more about themselves than about technical things.
Kasia
Is there anything else you would like to mention as the founders of the platform that you consider important?
Przemek
We strongly encourage everyone to use the website, bearing in mind that it is free. And as we said at the beginning, no one knows when something might happen to us, so better be prepared.
Szymon
Everything is fine if life goes according to our plan, but unfortunately something may happen to us and this information will be needed by our loved ones. We are still in the process of collecting opinions about the website and analyzing what is important for our users, because everyone has different needs. Everyone is different and has different thoughts, and all the things we've talked about don't offer solutions, they just offer a set of different possibilities because at the end you decide how you want to organize your affairs. We are open to keeping it that way, while addressing the needs and issues that we have not thought about. For this reason, we try to talk to various people, friends and family and based on this, we create a website that we present to you.
---
Project Conversation is an invitation to talk about death, dying, losing loved ones, and about the emotions and loneliness that accompany this process. It is a space to talk about how difficult the death of a loved one can be and to learn how important it is to talk about death, prepare for it and support people who are grieving. This project aims to give a voice to people who have experienced a painful loss of someone they loved and to those who professionally support them.